Having a means to defend you home from intruders and criminals is a vital issue for many people. Depending on where you live, it can be more important for some rather than others. There are some people who don't like to use firearms but still want the use of a projectile to defend their home. So, we will be explaining and listing the certain types of projectile weapons that you can use to defend you home that are non-firearms.
The two top weapons types for home defense that are non-firearms are crossbows and air guns. We gathered a separate list for both types. We are also going to explain why each is appealing and what aspects might draw you to one or the other. Amazon doesn't allow for firearms to be sold, but crossbows, air guns and air rifles are permitted. We have picked some of the best crossbows and air guns for this particular topic and I know you will benefit greatly from as a home defense option.
Crossbows for Home Defense
Why choose a crossbow for home defense? Before guns, a bow and arrow was the choice for a distance weapon. This went for defense and offense. It is also a preferred choice for hunters because a bow and arrow is much quieter than a firearm. They do require a bit more skill and don't cover as much distance but with a home intruder, the distance should be minimized greatly.
With crossbows, you get the added advantage of firing a bow and arrow like a firearm. This takes the skill of using the bow out of the equation and you can use a crossbow like a classic pistol or rifle. If you are the type to stray away from a bow because it is inconvenient to use in a home scenario, using a crossbow might be the way to go.
Using arrows as the projectile to stop your target, you should probably know that arrows have always been known to leave big wounds due to the arrow size and arrowhead. Just be aware that the velocity of arrow is a lot less than a bullet which will hinder "stopping power" while using a crossbow so it is smart to get a crossbow that fires at a high FPS (Feet-Per-Second) per shot.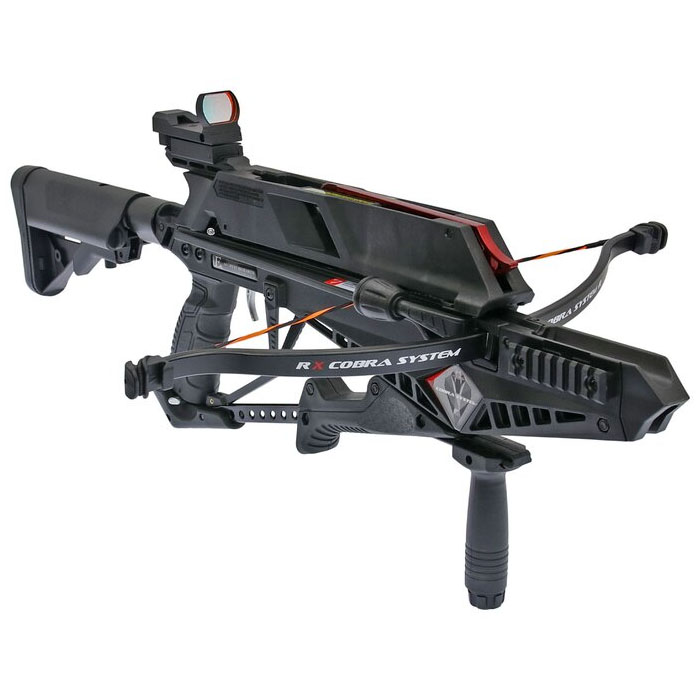 EK Archery RX Adder Automatic SELF Loading Repeating Crossbow
This is the world's first commercially manufactured true tactical crossbow. It is a magazine fed crossbow that takes 5 to 6 bolts. This is the perfect type of crossbow to have so you don't have to load your bolts every time you fire. This kind of situation is perfect when defending your house because loading a bolt every time you fire is cumbersome when time is of the essence.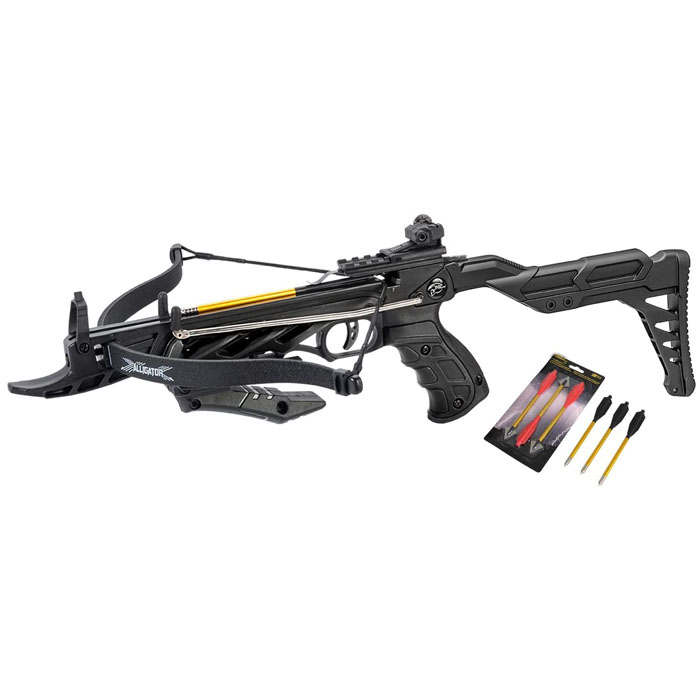 Isaazon 80lbs Self Cocking Pistol Grip Crossbow
For those looking for a smaller handheld crossbow, this is a great choice to keep handy. The Isaazon 80lbs Self Cocking Pistol Grip Crossbow includes an easy cocking stock, automatic safety mechanism and fore grip with finger guard. In addition, the adjustable stock, adjustable sight and weaver rails provide unparalleled customization. It is also great for small game hunting. I would compare this to a .22LR stopping power.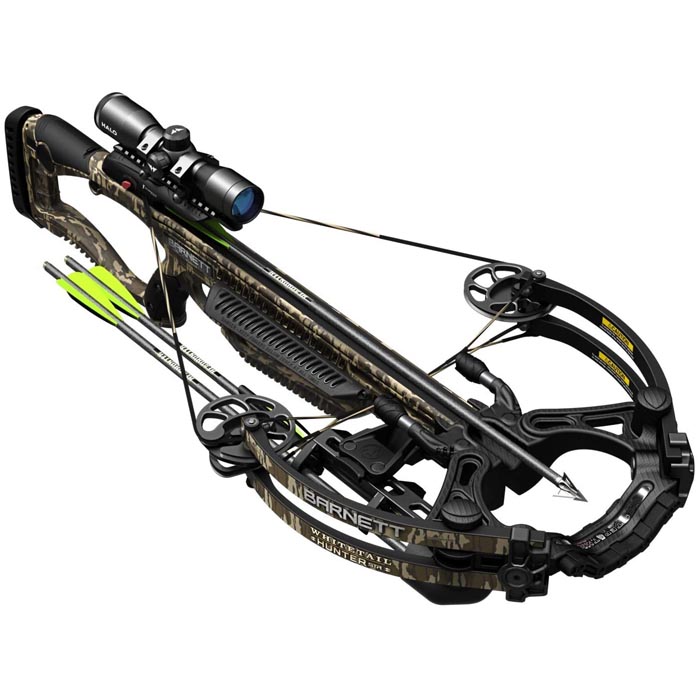 BARNETT Whitetail Hunter STR Crossbow
If you want to go all out on getting a crossbow, here is a best selling crossbow that might suit you well. This Barnett crossbow is a high-performance whitetail hunter STR compound crossbow in mossy oak bottomland with complete hunting accessory package. This is the real deal and shoots 375 per second and weighs 6.6 pounds. Primarily used for hunting, this crossbow can be a multipurpose weapon.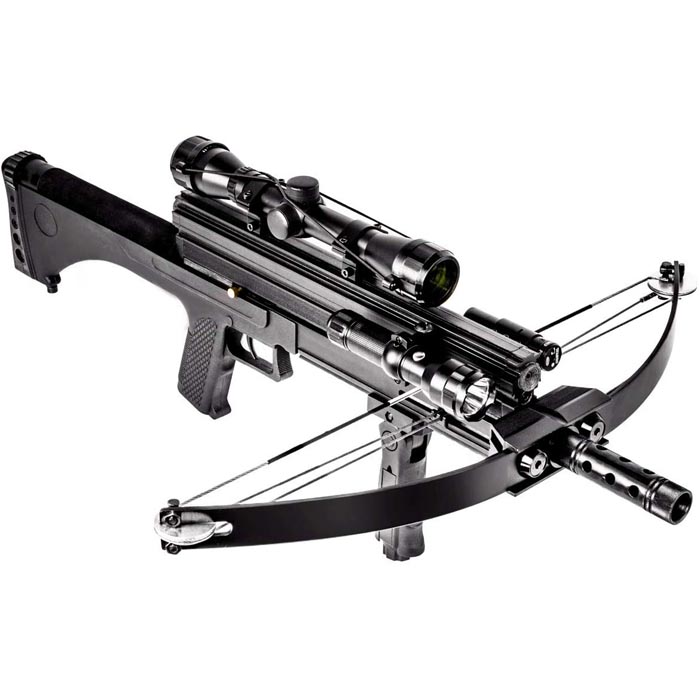 XtremepowerUS Hybrid Crossbow
One of the most user-friendly & practical solution available on the market today for cocking a crossbow effortlessly and accurately. 160 FPS with Pin-Point Accuracy equipped with 30″ length powered by speed-inspired, the bow assembly is built for bone-crushing speed with pin-point accuracy. Fully adjustable stock and fore grip is able to adjust up to 0-2.5″ for a customized fit to shoulder with confidence.

Airguns for Home Defense
Airguns are a natural alternative to firearms as they mimic firearms in a lot of ways. As non-firearms, they use compressed air to shoot their projectile. Some airguns use CO2 cartridges and some need to be pumped beforehand. Either way is effective. You just need to be weary of which method is used in each type of airgun so you can handle it accordingly.
The type of projectiles that are used in airguns usually come in the form of BBs or pellets. The best bet is probably using a .22 caliber pellet airgun for the best stopping power. Airguns that shoot .22 caliber pellets are used primarily for hunting small game but have plenty of penetration capabilities. Even though BBs and pellets are much smaller than arrows, airguns have the potential to shoot much faster than crossbows.
Using an airgun is similar to using a real firearm. The ammo is lighter and the recoil is much less since. There is also a much lower sound because there is no explosion from a bullet being fired. Airguns also look like real firearms so they have an intimidating factor as well.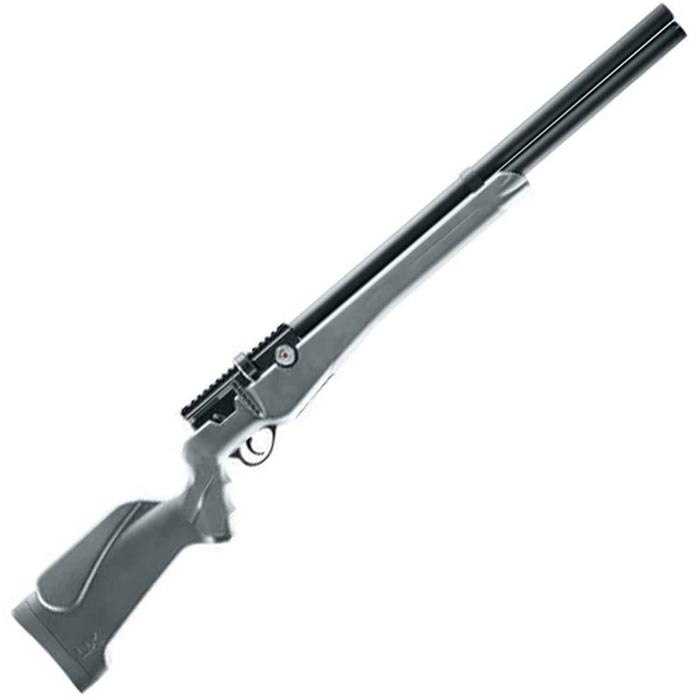 Umarex Origin Air PCP .22 Cal Rifle
The Origin .22 PCP rifle is a truly unique PCP that cuts pumping down by half so you can do more shooting. The patented pre-pressurized tank is pressurized for a full-power shot with only 13 pumps. Mount a sight on the Picatinny rail and you are set to shoot .22 caliber pellets accurately at a really high FPS.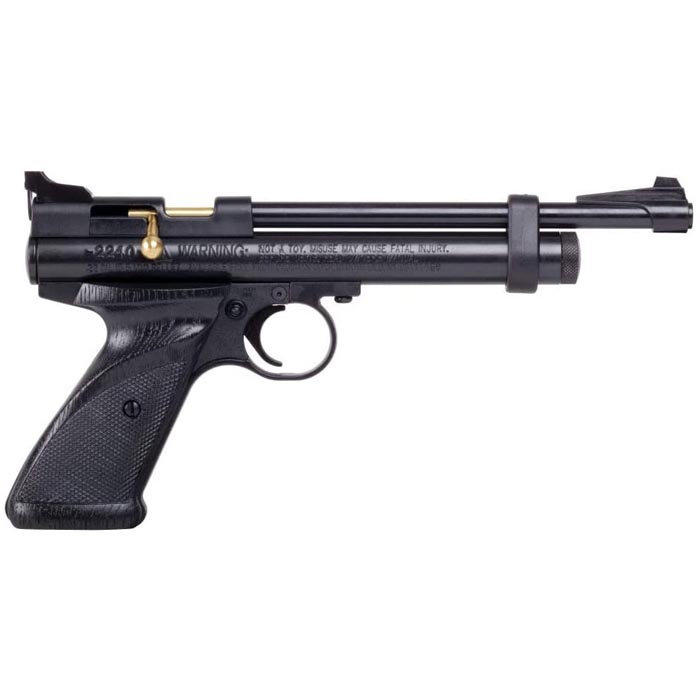 Crosman 2240 Bolt Action .22-Caliber CO2-Powered Pellet Air Pistol
This .22 caliber air pistol features an improved bolt design for easier cocking and loading. The rifled steel barrel provides greater accuracy and CO2 power provided by the 12 gram Power let provides 460 feet per second of power. A great pistol for target and plinking or small pests. Ergonomically designed ambidextrous grip fits the hand for perfect balance and comfort.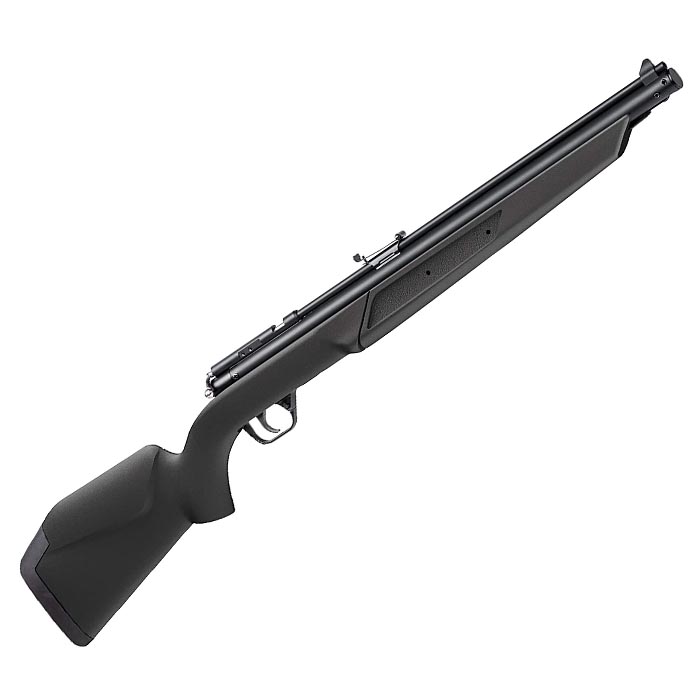 Benjamin 392S .22-Caliber Bolt Action Variable Pump Air Rifle
The Benjamin Bolt Action Variable Pump Pellet Air Rifle features Monte Carlo styling, a durable all-weather synthetic stock and foregrip, rifled barrel and fully adjustable rear sight. Lightweight at 5.5-pounds for easy carrying. Great for small game hunting. Comes with a crossbolt safety for safe handling.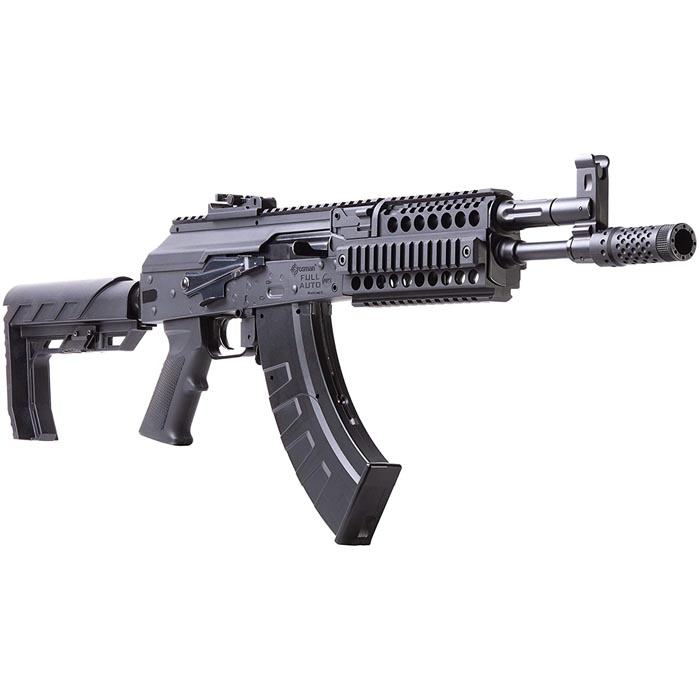 Crosman CAK1 CO2-Powered 4.5mm BB Air Rifle
This is more "look" than ability of self-defense. Experience the ultimate in fully automatic BB guns with the Crosman AK1. Featuring full-auto and semi-auto options powered by dual CO2 powerlets, the Crosman AK1 flings BBs at 430 fps and 1400 rounds per minute. This modern take on an all-time classic comes with a 28-round removable magazine and a foldable/adjustable buttstock to give the shooter the ultimate in look and feel.

Are these weapons enough
Will you able to stop your intruder with these types of weapons? Yes. Are they as effective as higher caliber firearms? No. Crossbows are going to do more damage due to the arrow being a much bigger projectile but arrows don't shock the body as well as bullets do since they don't fly as fast as bullets do when they hit an object.
Remember, these type of weapons are not meant to be offensive weapons. As reports may show, a presence of a firearm during a robbery, home invasion, or attempt of a crime of any type will have the offender second guess their actions. So, just having a weapons there can ward off foes rather effectively. Most criminals are usually cowards and target homes, shops, and other places that they think are easy targets. They don't suspect these targets to be armed in any way shape or form. Hopefully, you'll never need to use these weapons in a bad situation. But if you do, be prepared.
Overview
These types of weapons still require plenty of practice. I recommend you familiarize yourself with the non-firearm you choose and make sure you are proficient in it with every aspect so you know what to do with it when you need to use it.
All in all, these non-firearms are a great alternative to actual firearms. Keep safe and remember, Practice Makes Proficient.