Hunters. Calling all hunters. The call for solving the night time target acquisition has been heard. Daytime target acquisition is one thing but night time acquisition is another. To make things easier, you will need the best Night Vision electronics to get the best results. We have exactly what you need for those long days of tracking your prey in the field.
There are various types of Night Vision scopes that can do the job for you. The different Night Vision types include Illuminated Night Vision, Digital Night Vision, and Thermal Night Vision. Many of the scopes below have combined multiple Night Vision technologies. We go into detail on the what Night Vision technologies each of these scopes have. Lets get started.
The Difference Between Digital and Thermal Night Vision Scopes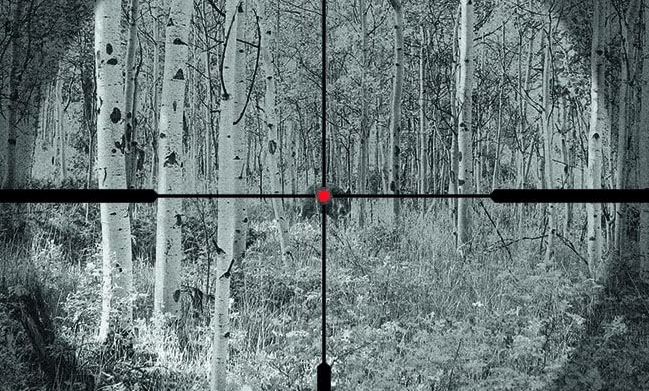 Digital Night Vision
Digital Night Vision is technology used to see targets in the dark on a digital picture using electronic means. The Picture usually comes out on screen in black and white or green gradients. This technology is uses small amounts of ambient light to create a clearer picture in a digital format. IR Illuminators are invisible light sources that accompany Digital Night Vision aids and are often used to generate more ambient light so that a much clearer picture can be generated making your target more viewable on picture. More recent generations do away with IR Illuminators since they expose your position when others are using night vision.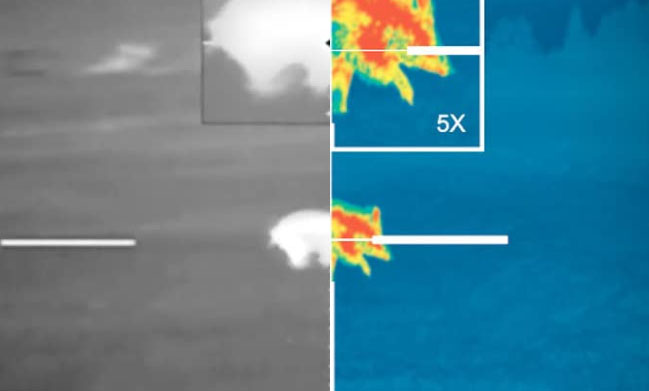 Thermal Night Vision
Thermal Night vision is actually not night vision at all. Thermal shows the heat range or the "heat signature" of an object – more specifically, a living being. Most living beings give off heat energy which can be picked up using the thermal technology. When hunting, thermal technology can be used to acquire a target in either night or day scenarios. There is not much heat in the field especially in the night time for hunting so finding your target's heat signature is easier than using normal night vision. This is why thermals are the preferred method for target acquisition in the night.
Here is the List of the Top 10 Best Night Vision Scopes
Type: Digital Night Vision
Magnification: 3x / 4.5x digital
Summary
This is a great entry level Night Vision scope from Texas Precision under their Sniper line. The Sniper Day/Night Colorful Digital Night Vision Scope night vision works well and the added IR illuminator provides additional light and clarity to reach about 200m. The scope mounting hardware comes with the scope and it is really easy to mount. It is a digital night vision scope so it comes in full color viewing for day use and black and white or classic green for night vision mode.
Type: Digital Night Vision
Ultra Low-Light IR Technology
Comes with Picatinny Rail
Summary
One of the best Night Vision add-on scopes for your rifle. This water resistant night vision scope comes with a Picatinny rail mount and is rated for .223/5.56mm caliber. The SIONYX Aurora Black is a Ultra low-light IR sensor technology made for hunting, boating, outdoor, tactical and military applications. It is a full color night vision scope and will be great for all your applications.
Type: Digital Night Vision
Magnification: 2x/4x digital zoom
"Picture-in-Picture" mode
Summary
Pulsar has a proven record of producing incredibly valuable Night Vision scopes. The Pulsar Digisight Ultra N455 is one of their best Digital Night Vision scopes they have on the market. The Digisight 4.5-18x features picture-in-picture 2x/4x digital zoom with continuous and stepped options, wide field-of-view, over 10 reticle options and a removable modular IR illuminator. Everything you need to take down hogs, predators and varmints day or night.
Type: Digital Night Vision
Dual Stream Video Recording
Summary
ATN is a staple in the Night Vision community and this is one of their best Digital Night Vision scopes available. The X-Sight 4K PRO offers an Enhanced HD Night Vision Mode which not only Streams Video to your mobile device at HD resolution and can simultaneously Record to the SD card inside. Last but not least, don't forget about the Ballistic Calculator which can measure Range, Wind, Angle to target, Temperature, Humidity, all with Multiple-Weapon Profiles. Get your ATN X-Sight 4K Pro Smart Day/Night Rifle Scope now!
Type: Digital Night Vision
Magnification: 2x/8x digital zoom
Additional Rail with IR flashlight
Summary
If you are looking for a Night Vision scope that is a little easier on the pocket, Sightmark has you covered. The Sightmark Wraith HD Digital Riflescope has a full color viewing for day use and a black and white or classic green for night vision mode. It also boosts a high resolution imaging with video recording in 1080p HD and a 8x digital zoom with 2x optical system for up to 16x magnification. Feel free to pick up the Sightmark Wraith HD Digital Riflescope for a decent price.
Type: Thermal Night Vision
Comes with Picatinny Mount
Magnification: 1x/8x digital display
Summary
Is this the best Thermal Night Vision scope of all time? It just might be. As you know Trijicon is world renown for supplying the world's best scopes to the military. You can do the same. The Trijicon Teo Reap-IR Mini Therma is a lightweight 640×480 thermal sensor that is made in the USA and supports digital contrast enhancement (DCE) digital focus control (DFC) stadiametric ranging edge detection modes. It has a 1x optical/8x digital display all on a Picatinny rail mount. You can't go wrong with tech made for the military.
Type: Thermal Night Vision
Dual Stream Video Recording
Summary
Here is the "bigger" brother of the Digital ATN scope from above. Imagine everything the ATN Digital scopes can do just improved with the Next Generation of Thermal Sensor technology. The ATN Thor 4 is Powered by ATN's Obsidian IV Dual core which is an Ultra Sensitive Next Gen Sensor capable of capturing crisp clear images at the furthest ranges with improved resolution, higher sensitivity, and smooth gradations. At 16+hours of Continuous operation, the ATN ThOR 4 will last for long hunting sessions.
Type: Thermal Night Vision
Magnification: 2.7x Optical / 2x, 4x Zoom
384x288 (50Hz) Resolution
Summary
The AGM Python Thermal Imaging Rifle scope models are great thermal night vision scope that will last in all weather scenarios. Since these are pretty small and lightweight night vision scopes, these promote a 384×288 (50Hz) Resolution with a 50mm lens and a 2.7x optical magnification. The Python TS-Micro gives up to 5 hours of continues work and optional external battery pack with high-capacity is capable of increasing the total operation time to up to 44 hours.
We feel that one of these Night Vision scopes on this list will be suit your needs as a hunter in the field. Make sure you you dive into researching the ones your really think are viable for your situation. Digital and Thermal are two very different Night Vision technologies so make you purchase the correct type for your needs.
We also have a wide range of some of the best scopes and rifle sights if you are interested.
Don't be alone in the dark and get yourself a Night Vision scope today. Meanwhile, keep practicing because Practice Makes Proficient.