I wear glasses. I have been wearing glasses since the 4th grade. Many times, finding anything to fit your face with prescription glasses on is a huge pain. Now when it comes to going to the range and shooting, this is no different. Finding good shooting glasses when you wear your own prescription glasses can be difficult, but we have you covered. Some ranges may allow you to wear just your prescription glasses as eye protection. If the gun range you shoot at requires you to wear a more "official" set of eye protection, we have a list of eye glasses that should suit your needs well.
Why are shooting glasses necessary?
Accidents do happen when handling and operating firearms. After-all, you are firing a projectile out of an explosive cartridge. Granted, shooting eye protection won't stop a bullet if shot at. It is designed to stop any other smaller materials from flying into your eyes. Materials that would effectively hit your eyes could be spent shell casings, gun powder blow back, or just the excessive power of the muzzle velocity. It's also a good idea to wear shooting glasses when hunting and facing the elements. Plus, cleaning you gun exposes you to various cleaning materials and small parts which can fly in your face.
Shooting glasses can also help you see different targets better. There are several different colors one user can wear to highlight different targets in different scenarios. You might notice some glasses have a yellow, dark, white, or standard clear lenses. These colored lenses will help you identify certain color targets faster and more effectively. If you are interested or need a certain pair of a different color. Check out the combo pack we have below.
Without further ado, here is our list of Shooting Glasses for Eyeglass wearers:
Updated for 2021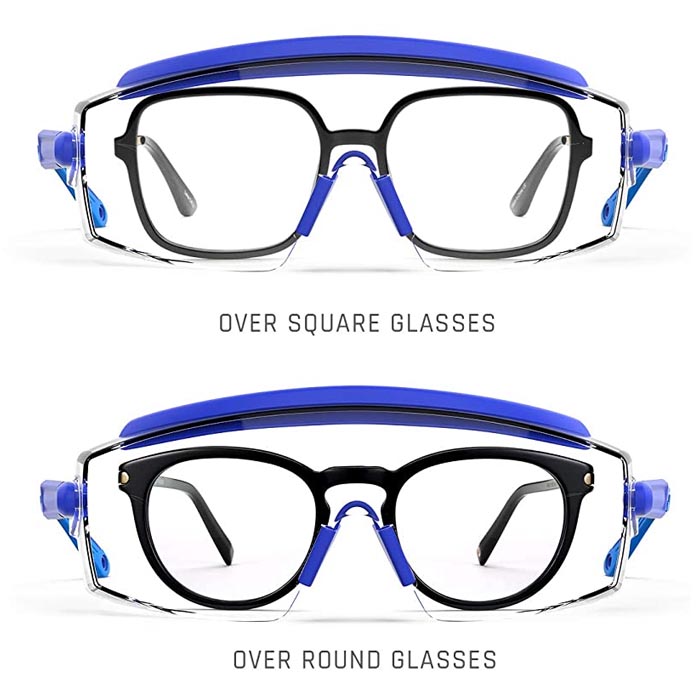 Anti-Fog Safety Glasses With Adjustable Frame
These are my new favorite glasses! They check all the boxes that suit my needs when going to the range. They fit over all types of different prescription glasses. Not only this but they are anti-fog to help out the mask wearers and they are also adjustable. Not every one is the same size so these have adjust anti-slip temple sleeves so you can adjust these to your perfect comfort zone. Highly recommend.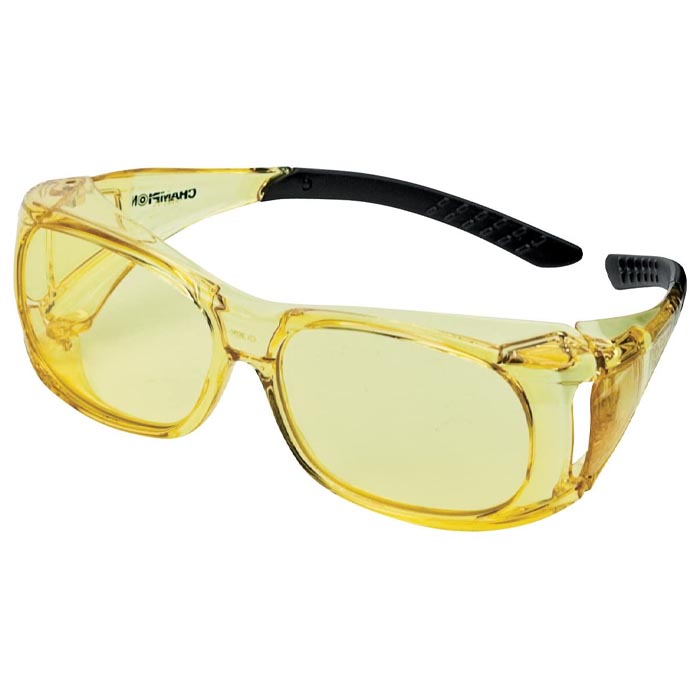 Champion Over-Spec Ballistic Glasses
Introducing one of the world's first ballistic shooting glasses that were designed to fit over prescription glasses! These scratch resistant lenses are designed for shooters. These dual piece ballistic rated lenses provide four times greater impact protection than ANSI Z87.1, meeting military standard MIL-PRF-31013. Go pro even with your own glasses!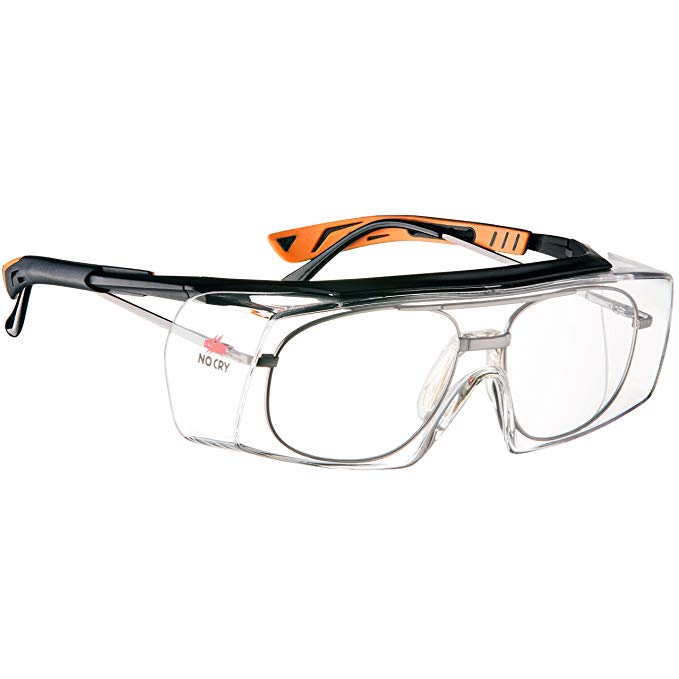 NoCry Over-Glasses Safety Glasses
These glasses are great for wearing as a wrap around for your glasses. The features come in handy as they fit around the prescription glasses you are already wearing to make it seem like they are part of a complete package. They are anti-scratch with side panels. They are also adjustable with UV400 protection and ANSI Z87 & OSHA Certified. These work really well for my pair. Grab a set at a low cost at Amazon.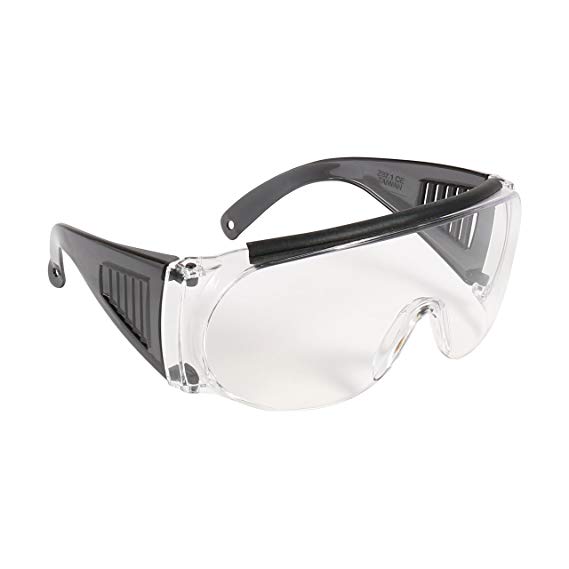 Allen Company Shooting & Safety Glasses
This is your basic set of shooting glasses. They are somewhat sleek plus they do fit over your glasses pretty well. They also do not cost a lot – at all. Get yourself a pair or two to have as backup in case your primary pair breaks and you need to use these as backup.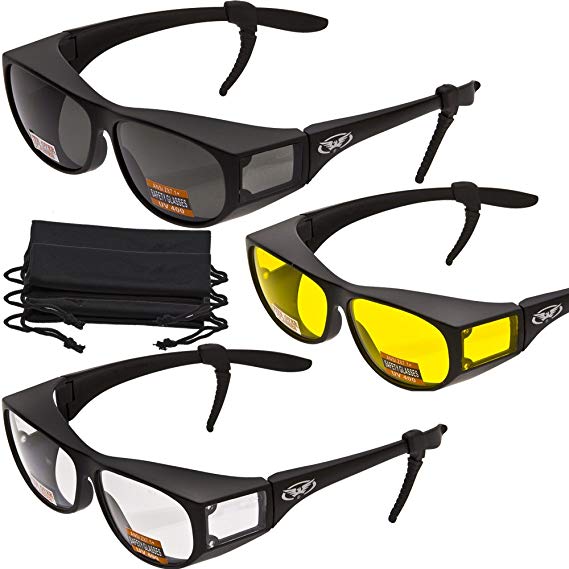 Escort Advanced System Safety Glasses (3 Pairs)
If you are looking for swag, here are the stylish glasses. The glasses can be a tight fit over your prescription glasses but, you do look good. This set also comes with 3 PAIRS of different color glasses so you can use them in different shooting circumstances. These glasses also have ear hooks so they stay on your face better with sudden movements. Be the cool one on the range and get yourself 3-in-1.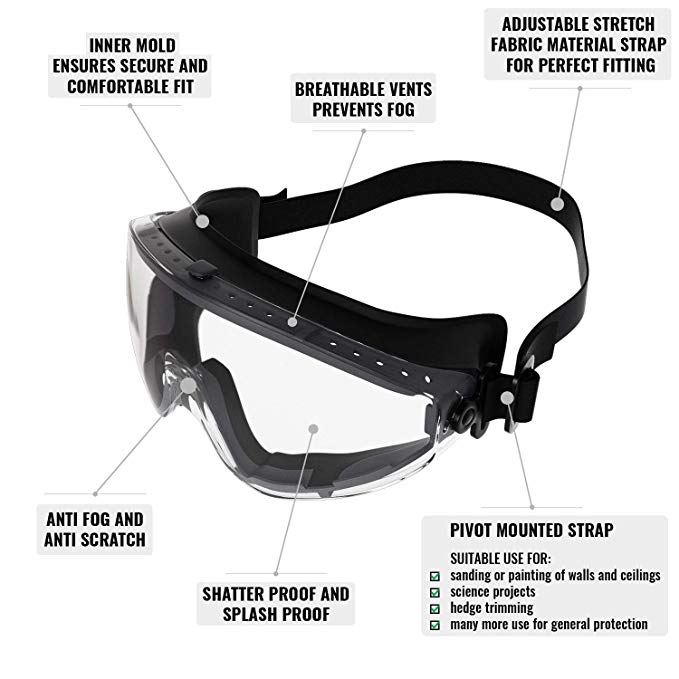 Pro-Tective Equip Safety Goggles
These are your more bulky less sleek glasses. They look more like you can do experiments with them. They are very protective in the sense that they cover the face and will protect you very well. They also fit your glasses just fine. You can probably use these glasses for other things also. Check them out.

There is no need to go crazy on your search for shooting glasses that fit your proscription glasses. Not many things usually happen to your face when practicing shooting. It's always good to be prepared, though. Find a pair that works for you and maybe buy a couple just so you have one or two as backup. If you are looking for ear protection, electronic ear protection is the way to go.
Remember all your safety equipment when shooting. Continuing to practice will also help you remember these essential items. Practice Makes Proficient.