Home is Where the Heart is – this phrase might be hanging in the wall in your kitchen or in your family room. It hangs to ease your mind into thinking and believing that you are safe and secure at home. Home should be the place you and your family do not have to worry about danger and other outside elements. This should include INSIDE elements also AKA keeping your gun safe.
Your original home protection system – your firearm, can be a danger to your loved ones inside your home if not well taken care of. Firing your weapon is one thing but learning to keep your weapon from firing when not in use is even more optimal. The last thing you need is one of your young children to find your unsecured gun and play around with it because they think it's a toy.
That being said, lets get into the Top Tips for Keeping your Gun Safe at Home: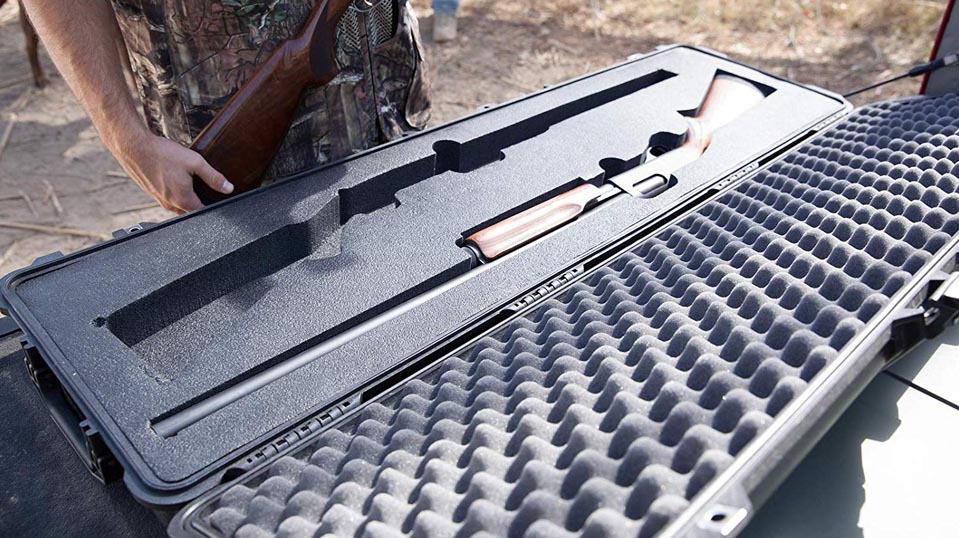 Gun cases are generally the go-to for not only keeping your gun safe but also neat, clean, and organized. If you are not sure where to start first, start here. Gun cases are versatile. They can be used for a variety of purposes including – gun accessory organization, ease of travel, gun protection, and public concealment.
If you are not planning on taking your gun traveling too frequently, I would recommend a hard case for your gun storing needs. Hard cases generally have a well built exterior usually made from materials that are designed to keep the contents inside safe without a scratch. Some brands of hard cases use military grade materials to ensure the utmost protection.
Most gun cases sport a high density foam inside the case so your gun can fit in the foam mold so there will be no movement when you are mobile with the case. The foam mold also can support other gun accessories and can be customized by making cuts in to the mold to fit your gun stuff.
What case should I get?
The case you want should based on your preference and circumstances. If you have a long gun, you are going to need to get a rifle case. If you carry handguns, smaller pistol cases are the way to go. There are also cases that support both long guns and pistols. Most long gun/rifle cases do support both and you can cut out additional spots for your handgun in your long gun case foam. The bottom line is do what is best for you.
Here are our best gun case choices that worked for us for both long rifles and pistols.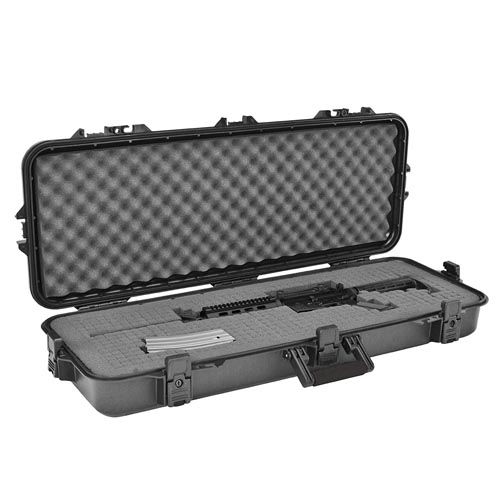 Pelican 1750 Rifle Case With Foam
With one of the highest rated rifle gun cases on Amazon, you cannot go wrong with this. Extremely durable, this Pelican case is kept watertight through the use of a tongue and groove fit and a polymer o-ring and comes standard with an Automatic Pressure Equalization Valve which releases built up air pressure while keeping water out. The double throw latches prevent accidental openings while the stainless steel hardware is made to travel through the harshest environments. Get one if want your keep you gun safe. Period.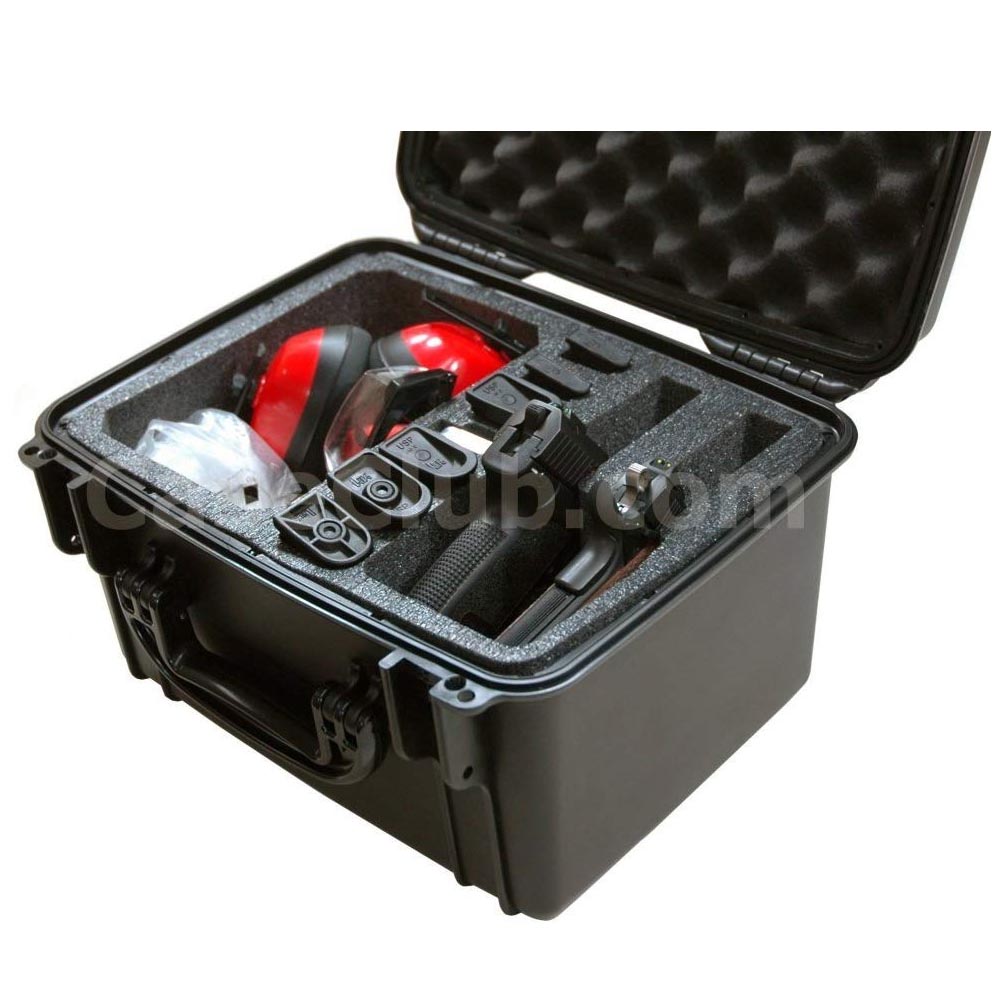 Case Club Waterproof 2 Pistol Case
Everyone loves to accessorize. This pistol case is the perfect choice for adding your pistol accessories with your firearm for safe travel and security. It holds up to 2 pistols and accessory pocket with 6 extra magazines & included silica gel for staying dry. The foam is closed-cell military-grade polyethylene, which does NOT absorb liquids, does NOT tear easily, lasts a lifetime, can be cleaned easily, and will NOT disintegrate. The works great in almost every scenario. Great for beginners to store everything in for the range.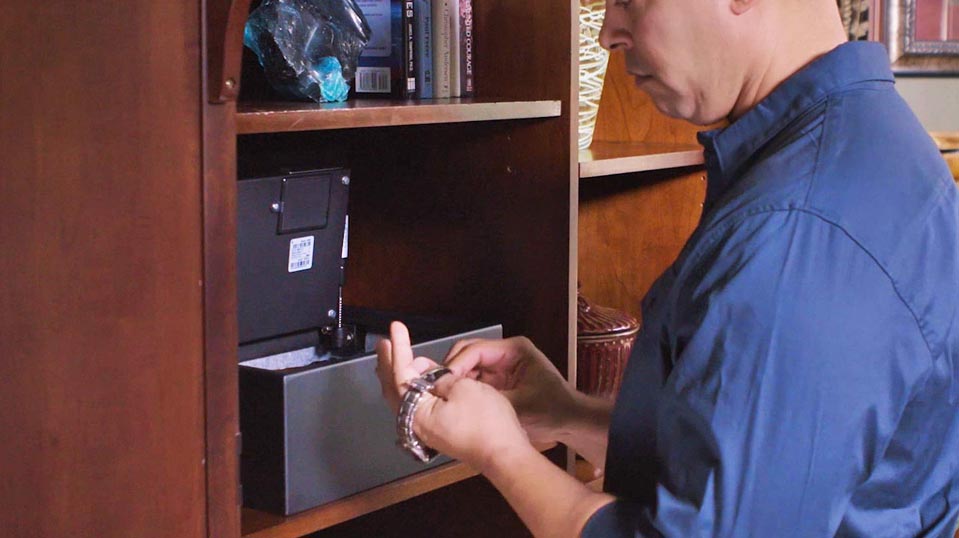 Looking for something a bit heavier that will not need to be moved? Get a safe. Safes offer superior protection and security when all you need to do is keep them at home. Since safes are not designed to be mobile, so they offer the best protection. Depending on the size, you might also be able to store more than just your firearms.
When it comes to home defense, I am a fan of getting your weapon out quick when you need it. Because of this, I support gun safes that have biometric technology like fingerprint scanning so you get access to your firearm fast without worrying about a key or combination. When a home intrusion is taking place, the last thing you need to be do is fumbling to look for where you put the keys or remembering the combination in the middle of the night. Tension is already high. The less you obstacles in your way to repel the intruder the better you should be able to respond to the situation.
What Gun Safes are the best?
Here some of the better safes we have seen. They range from small to big depending on what your needs are within your household. The small ones usually work for gun owners who just have one handgun. The bigger ones have room for not just long guns but for additional gun equipment and supplies if you need it.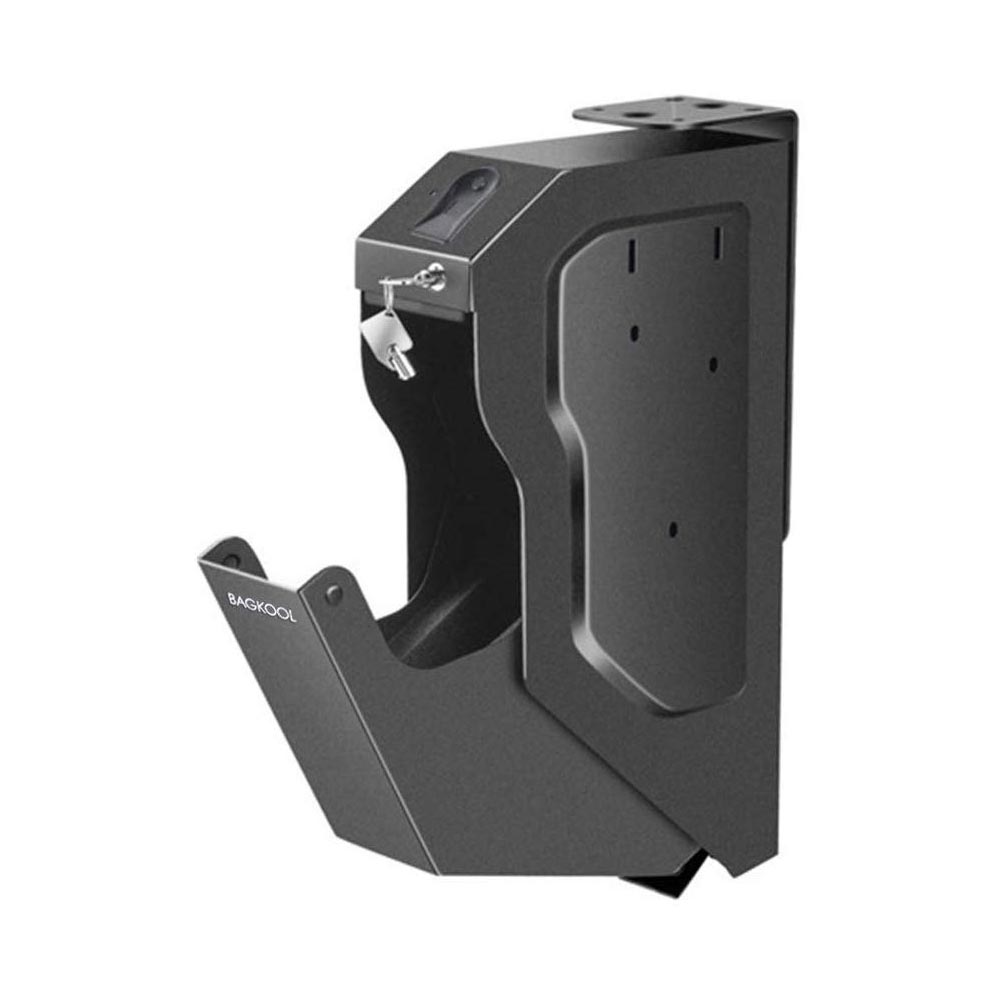 Smart Mounted Pistol Safe
This gun safe is so cool. Super convenient way of accessing your pistol when you need it. Also has a great way of mounting it where you see fit. The best part about this is the biometric fingerprint scanner which supports 200 different users. This gun safe is made of steel, sturdy enough and prevent children or intruders to touch your pistol. It is an ideal choice for home or business to add extra security if home is not the primary use.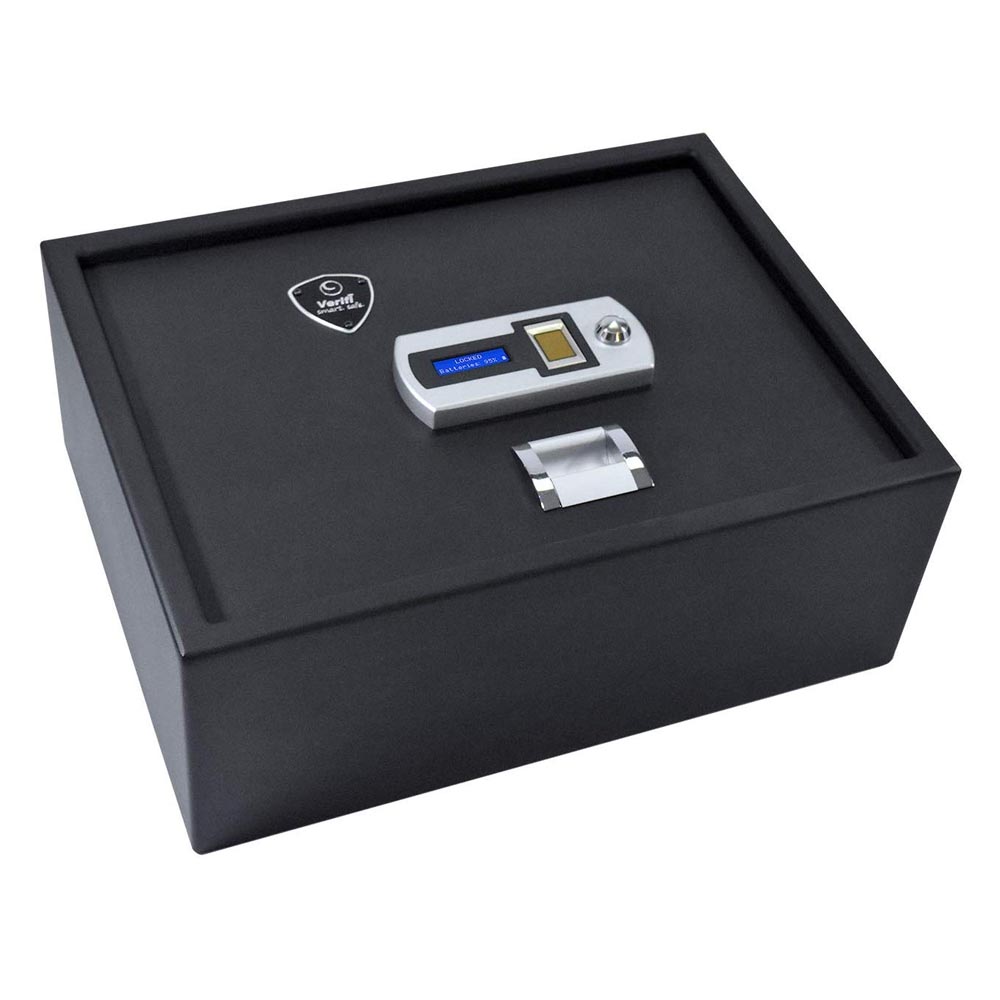 Verifi Smart Gun Safe
Introducing the the ONLY gun safe that has an FBI Certified Fingerprint Sensor. The Verifi Smart Biometric Gun Safe is a small to medium sized safe that can fit in a small room or office shelf. This gun safe performs self-diagnostics on the electronics and batteries plus logs tamper-alerts so you know when the safe has been accessed. LED lights help the user to see what is inside so you can access the contents easily.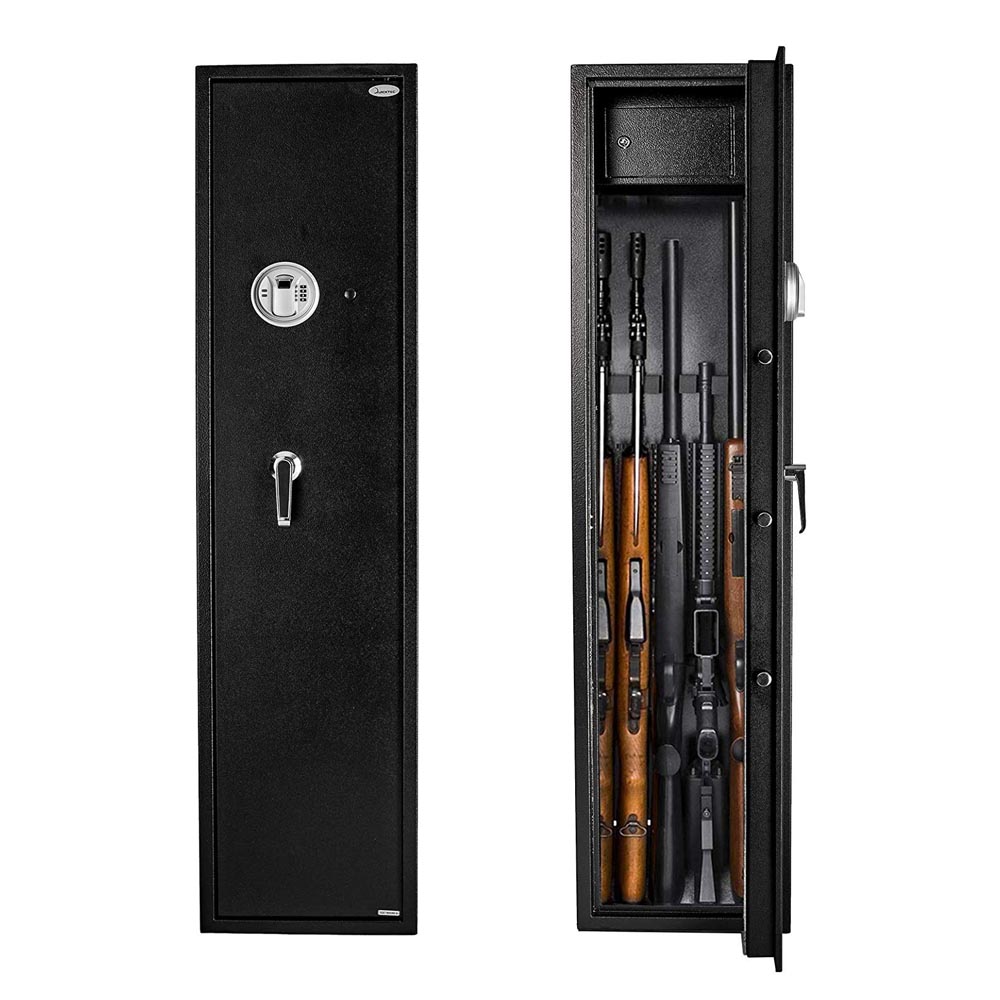 5-Gun Biometric Safe
Have a number of rifles? Need to keep them stored effectively and discreetly? Here is your answer. This 5 gun safe can easily fit in just about any room or closet for concealability. This Quicktec safe provides a one-touch biometric system that can be programmed to provide fast entry for up to 125 different & unique fingerprints. This rifle safe also includes 3-digit PIN code and 2 Emergency keys for quick access.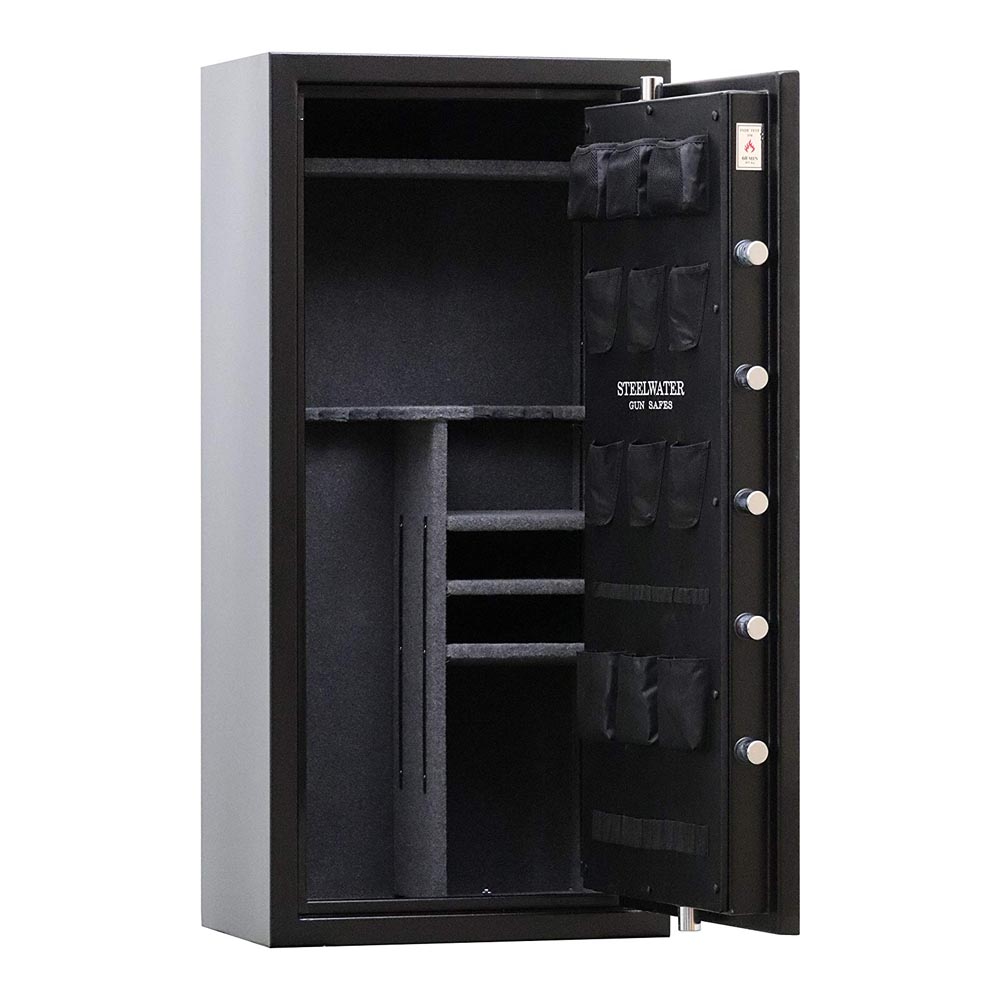 Steelwater Heavy Duty 20 Long Gun
Looking for something bigger? I mean much bigger. Here is a gun safe that can take up to 20 long guns and up to 60 minute fire protection. Heavy duty indeed. This safe includes an EMP Proof Electronic lock system with a high security double sided bypass key lock so you practically will never be locked out of your safe. Operates on a gear drive system to maximize against pry attacks, punch attacks, and drill attacks.

Trigger locks are small inexpensive solutions to keeping your guns safe from unwanted users. They come in handy when you do not have a room, case or safe to store your gun in. Trigger locks go right over the trigger where the trigger mechanism cannot be used. Most of them come with lock and key so they are easy to access when need to be removed. Some are up-to-date with biometric technology including fingerprint scanners for quick unlocking. They do cost a bit more but if you need the locks to come off quick in an emergency, the fingerprint scanner is the way to go.
Most gun trigger locks are universal. This means they are designed to be used on all types of guns – pistols, rifles, shotguns, etc. One lock can be used in multiple different guns if necessary. This means you can buy a couple of the same locks to use on different firearms if you have more than one gun that needs locking.
What gun locks are best?
We have a list of gun locks that might suit all the different needs of gun owners. Check out the ones that might suit your individual gun needs.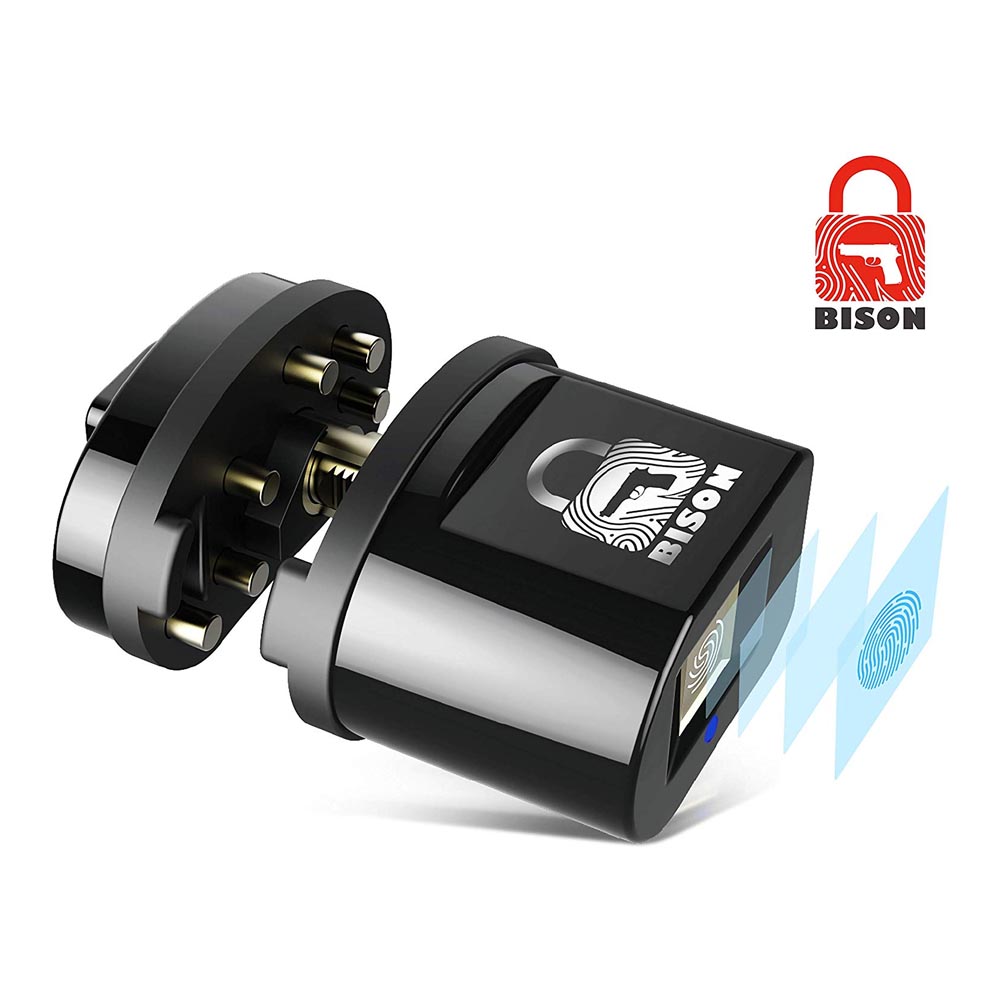 Bison Fingerprint Gun Trigger Lock
The Bison Biometric Fingerprint Trigger Gun Lock is weather & dust resistant. Fits pistols, rifles, shotguns, BB guns, airsoft guns, and paintball guns if you need it to. It also has a secondary backup override system that unlocks with a key as an alternative release solution. This uses edge fingerprint scanner technology for up to 10 user profiles which makes it one of the safest and fastest high-security trigger locking systems in the world.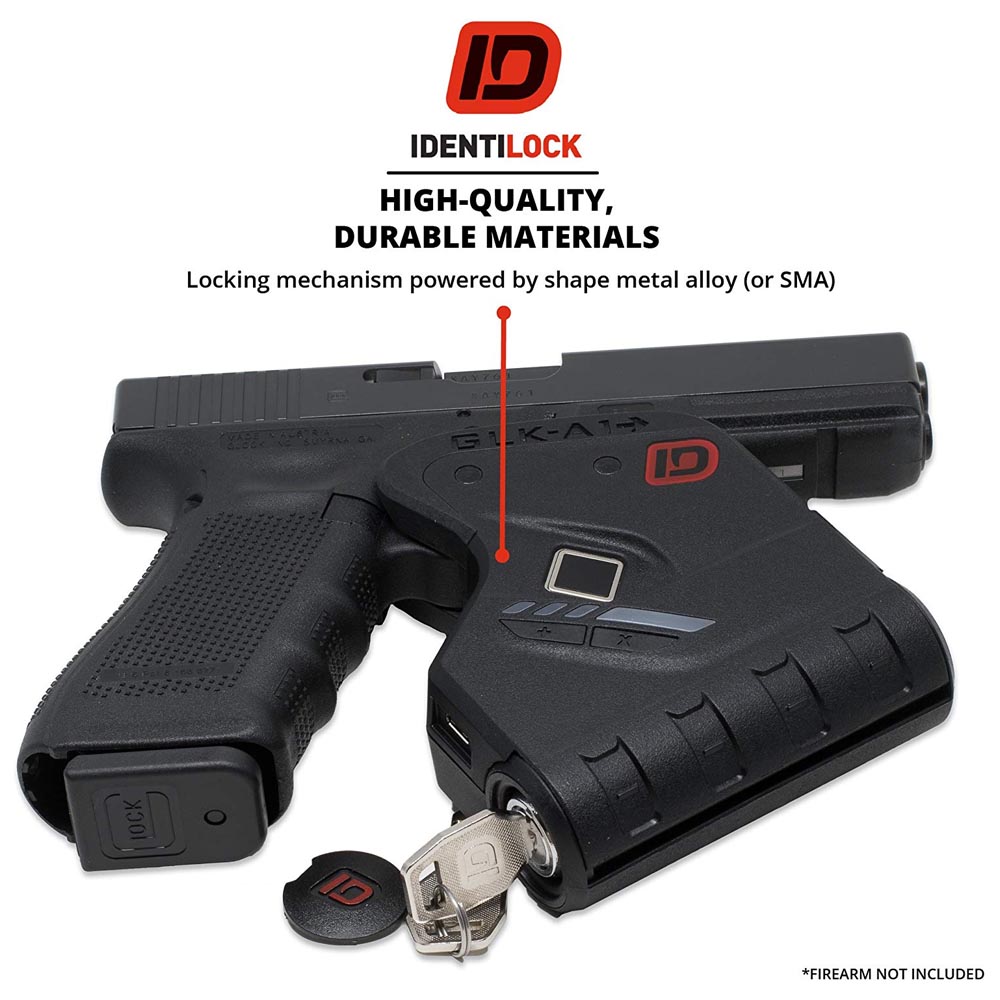 IDENTILOCK Fingerprint Trigger Gun Lock
This unique looking gun lock is made with metal replacing polymer, and employs metal alloy actuation designed by NASA to withstand extreme conditions. It is designed to be removed off your gun very easily and effectively for quick access in .3 seconds. There are multiple versions to fit a wide variety of different pistols. Make sure to choose the version to fit your pistol accordingly.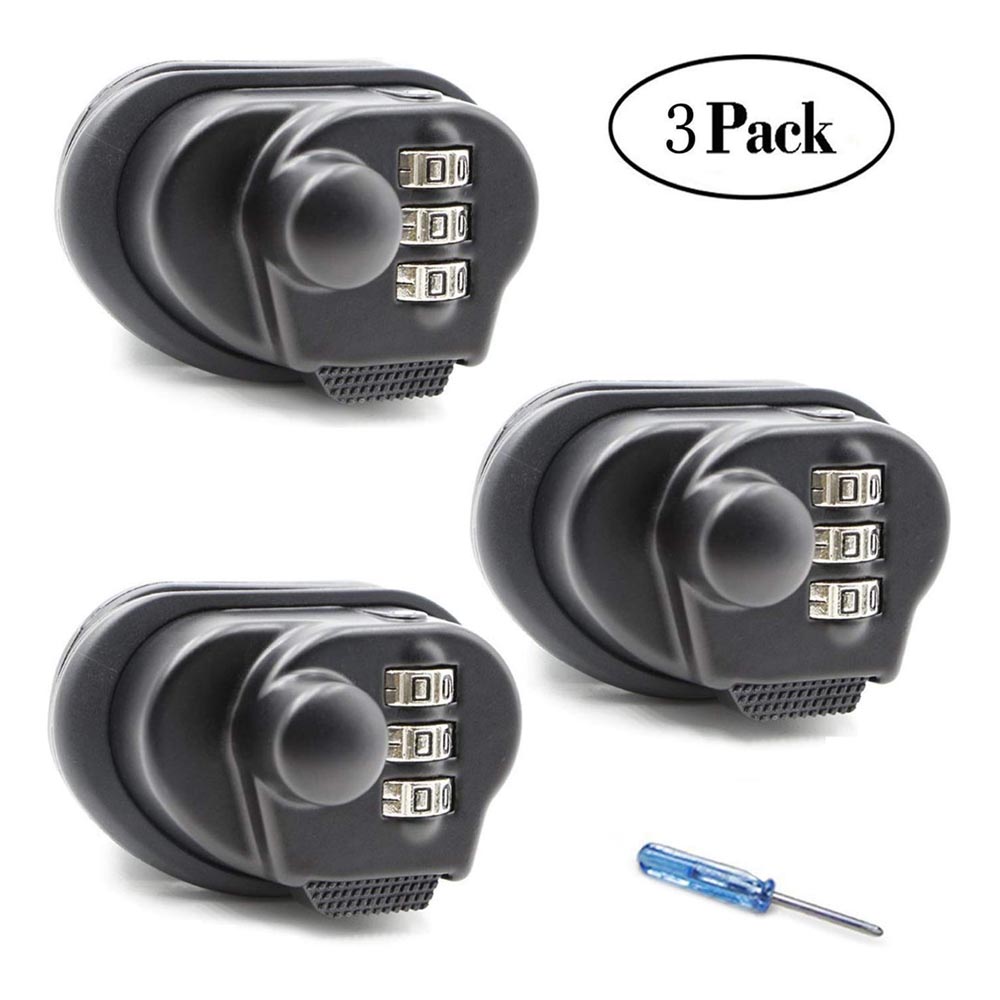 Trigger Lock 3 Digit Combination Gun Locks
This is the low end of the spectrum when it comes to gun locks. Nothing fancy but it will fit the majority of weapons. Plus they come in a pack of 3 so you can use with multiple guns. The locks are opened using a 3 point combination and easily reset it to the combination of your choice by simply pressing a paperclip to the reset button.

Other Gun Safety Tips
There are some general tips for keeping your gun safe at home. Gun cases, safes, and locks are great but additional gun handling rules top  take the cake when keeping things safe. These are similar rules you would find at a gun range.

Keep your firearm placed in a safe direction when in storage
This way if the gun accidentally goes off, it is pointed in a direction away from others.

Read the gun manual
Reading the gun manual will help you understand the full operation of the firearm. This way you will know the best way to load, unload, clean and store the weapon to keep it from discharging when you don't want it to.

Keep your gun unloaded
I actually do not recommend this if you need to use your weapon fast. Of course the most secure way of keeping your guns safe is to keep it unloaded. To balance out the two, what I recommend is to not have a round chambered. This way you won't have to do a complete load when needed.

Buy a gun with an active manual safety
Some guns do not have a switch for a manual safety. I suggest a gun with safety like this to increase the safety in your home even further.
There are plenty of things to keep in mind here when keeping your gun safe. Use your discretion in what route to take for your circumstances. Try to balance out the most safety features with the most convenient to access your gun if and when you need it. There is no point in keeping everything safe if you cannot get to your firearms in time to protect you and your family.
Do what is best for you and remember – Practice Makes Proficient.