The Vortex Optics SPARC AR is a wonderfully made red dot sight for your rifle. At a decent price, this red dot sight is perfect for quick acquisition and accurate zeroing on your target. Lets see what makes the Vortex Optics SPARC AR stand out from the other red dot sights on the market. Just be aware, this is the Gen 2 version. It's available to buy on Amazon below. Let's dive in!

Pros
The pros outweigh the cons for sure. Take a general overview at what the Vortex Optics SPARC AR provides.
Light
The Vortex Optics SPARC AR is 7.5 oz
Unlimited Eye Relief
Non-critical eye relief for rapid target acquisition
Parallax Free
Even though all red dot and holographic sights will exhibit some small amount of parallax, it will not hinder performance

Durable
Bomb-proof-like construction
Battery Included
Comes with AAA battery with 285 – 5000 hours of life
10 Brightness settings
10 levels of red dot brightness intensity with NV settings
Cons
Even the best has some cons to them. There are just a few.
Magnifier is not recommended for use
The Vortex VMX-3T Magnifier is not recommended for use with the SPARC AR
Astigmatism might cause distortion
If you have Astigmatism, you might have some issues focusing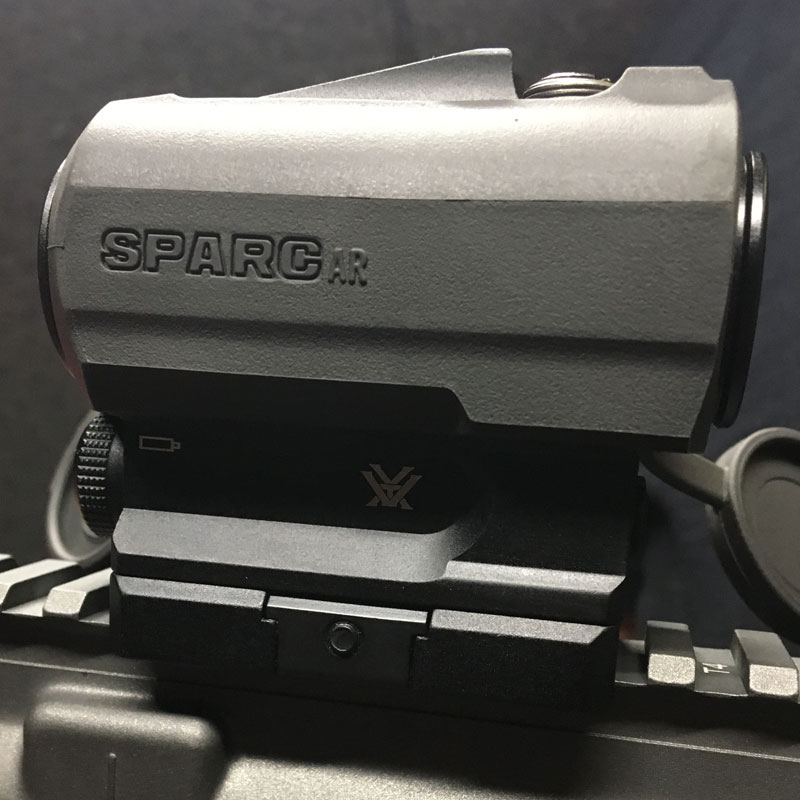 When I received my Vortex Optics SPARC AR in the mail, I opened it up and it includes a number of things. It came with a mount which can be adjusted to different heights. It also came with T-10 Torx wrench, a AAA battery, and rubber cover for the sight which had the flip caps attached to it. The first thing I did was put the battery in by screwing off the front part and inserting the battery in. I then played with the red dot setting in the back with the up and down arrows just to see how bright the red dot went.
It's a really easy optic with an simple to find battery compartment
Mount Type

Multi-Height

Magnification

1x

Obj Lens Diameter

22 mm

Dot Color

Bright Red

Dot Size

2 MOA

Eye Relief

Unlimited

Adj Graduation

1 MOA

Max Elevation Adj

90 MOA

Max Wind Adj

90 MOA

Parallax Setting

Parallax Free

Length

2.9 in

Weight

7.5 oz
The cover is somewhat of a hard rubber to help maintain it's durability so it takes a little bit of effort to get on or off. Now some folks might like the rubber cover, some may not. I like it because it provides a decent amount of padding protection for the sight. It also has the lens caps attached to it so you could possibly go bare with no covers or rubber housing to minimize the sight presence if you truly wanted to.
The Vortex Optics SPARC AR is pretty short so it doesn't take up much room on your rifle at all. I was able to use the wrench to install the sight easily on the BG Defense Type-A SPR-10.5 GEN3 A3 quite easily. Find an adequate on your rails and secure it in with the wrench they give you. A Picatinny or Weaver style railing system is what you will need to get the Vortex Optics SPARC AR installed.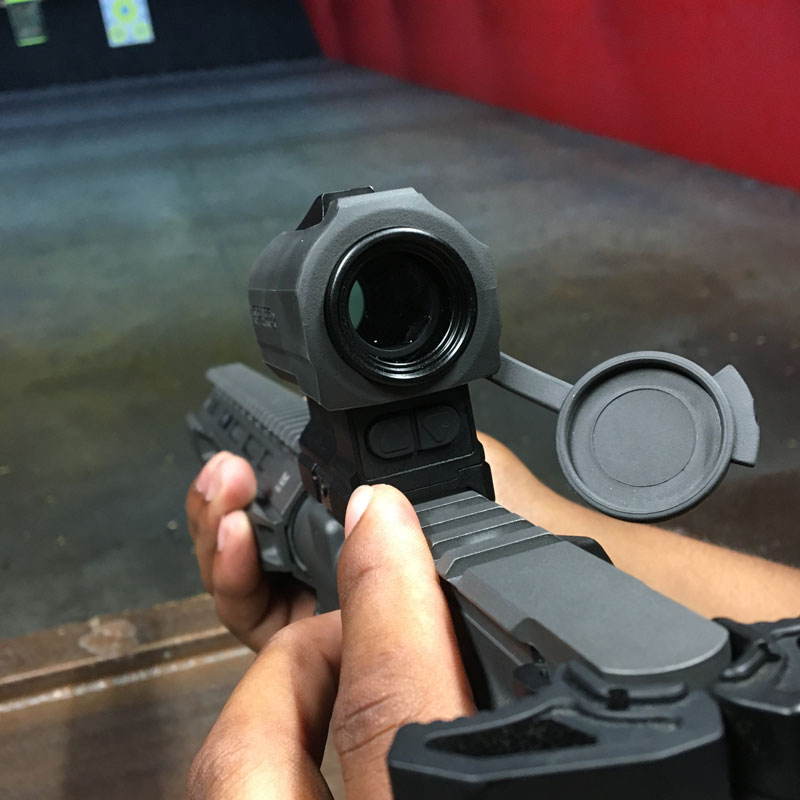 Now to test the Vortex Optics SPARC AR on the range. Turn on the sight with the arrow button on the back and start to zero the red dot making your adjustments as needed. After final zero testing, time to shoot some various targets. The Vortex Optics SPARC AR has 12 illumination settings in which the last 2 are compatible with Night Vision. I found this to be a great feature for Military Operators and Law Enforcement Officers. Select your desired brightness and start lining up your shots.
The 2 MOA dot is as easy as point and shoot which makes it great in close quarters
I was shooting this in the indoor range and the it's not super bright in there so I set the brightness to about a six. I am a guy who likes to see the target more than the red dot so I make sure the opacity is on the lower end so I can see what I am shooting versus the red dot over the target. I make sure my targets are just about the farthest away that I can put them. Firing my first groupings, I notice they are right on the money. It held zero just fine even after I continued firing at least 4 more magazines of ammo. With the 2 MOA it's very easy to hit targets in an indoor range, especially with a well made and maintained AR15.
SPARC stands for Speed Point Aiming for Rapid Combat and it provides just that. Using this on an outdoor range is a true test. I updated the brightness to a higher opacity due to the brightness outside so I can highlight targets better. When moving around and engaging outdoor targets, you really get better sense on how the SPARC is supposed to be used. When you bring your rifle up to engage and switch to different targets, the SPARC really shines. With the parallax free sight, wherever the red dot is, your shot will be. As long as you hold your gun steady and the red dot is on the target.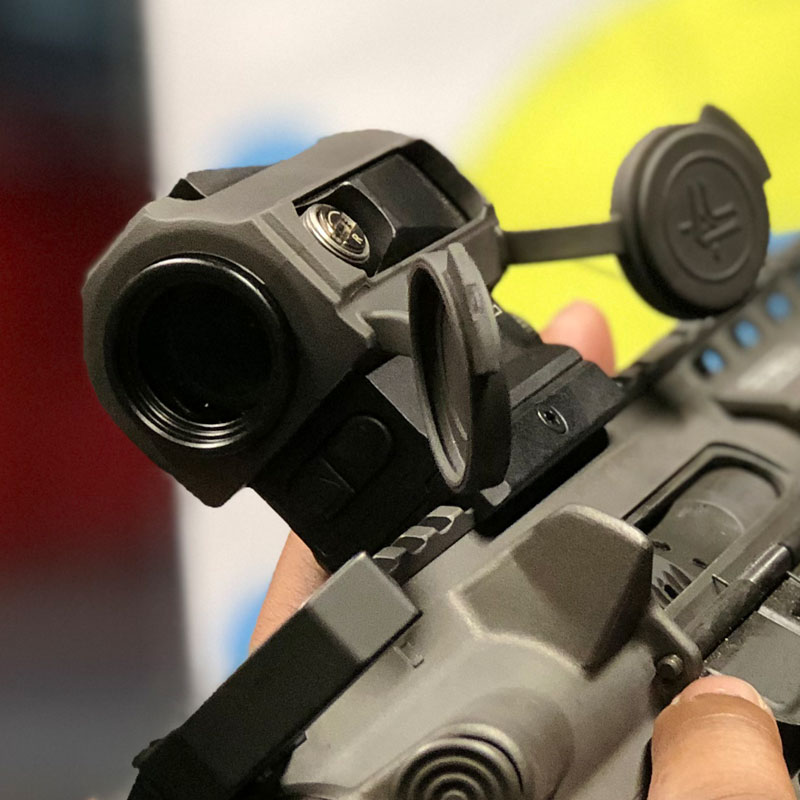 If you are looking for a quality, durable, fairly priced red dot sight? I highly recommend the Vortex Optics SPARC AR. I have had no problems with this red dot sight. I still have yet to change the battery after many uses. It's one of my go-tos when I take my rifle to the range. Is this your first red dot purchase? This will be a great choice and it will last you for a long time under just about any circumstance. Get yourself a Vortex Optics SPARC AR. You will not go wrong.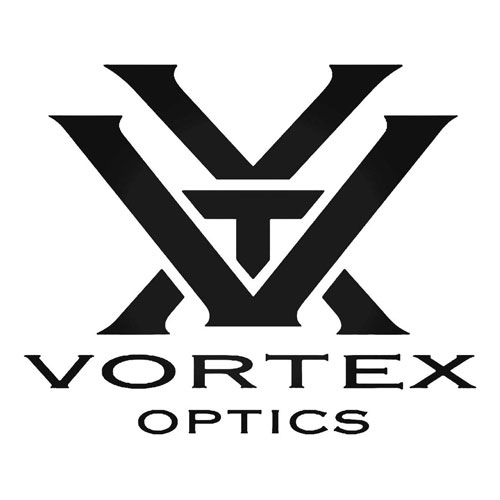 Since 1986 we have been and remain an American Owned, Veteran Owned, Family owned and operated business of hard-working folks located here in south central Wisconsin.
All of our products are designed, engineered, pre-inspected and serviced in our modern facility to ensure you receive the best products and service for your hard earned dollar.
The Vortex Worldwide Lifetime VIP Warranty covers your purchase worldwide through the distributor or dealer in the country where you purchased your product.
Other Products By Vortex Optics